I finished writing my series The Warrior Trilogy in May. The final book is called Sword of Apollo, and it comes out in June of 2015. I was on Amazon today and noticed that my publisher had put the cover on the site (they hadn't even sent me a JPEG to look at). That's one of the weird things about being an author. You do some Internet surfing and lo and behold–you find your new book's cover! I think all three books look cool together. It will be interesting to see how the foreign publishers do the covers (Brazil and Italy). Greek translations have been done for the first two books and here are those covers. I'm incredibly proud of this series, and especially proud that it's published in the language of the place where it is set.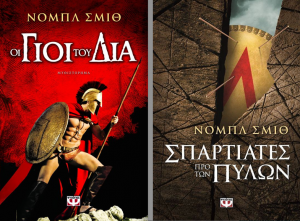 The Warrior Trilogy is around 360 thousand words. But the story of Nikias, Kolax, Chusor and the people of Plataea is not yet completed. Even though my publisher, Thomas Dunne Books/St. Martin's Press, hasn't picked up the second series, I'm going to start writing it. The first book is called Rage of the Minotaur and it's the first book in The Exile Series: the epic tale that follows Nikias and his companions after the fall of Plataea.
Coming soon I'll be putting out a free ebook novella called Love Death & Hate Your Foe. It's the story of young Menesarkus (Nikias's grandfather) during the final battle of the Second Persian Invasion–a battle that was fought in the fields of Plataea and changed the course of western history. Here's the cover for that one. It was designed by my friend Isaac Colgan. He created this amazing image that conjures a Persian and Greek warrior curling into existence from the smoke of a torch fire.