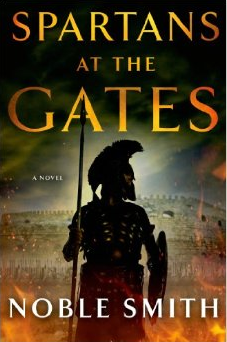 I just got the advance reader copies (ARCs) of the sequel to Sons of Zeus and they look great. The book is called Spartans at the Gates and it starts up a day after the first book ends, with my hero Nikias heading off on a desperate mission to Athens from his home–the independent city-state of Plataea.
One of the hardest things to get for a book before it is published is a blurb from another writer, especially for a new series like this one. Historical fiction authors are notorious for not helping each other out. Why? Because the historical fiction market is the hardest to break into of any genre, and I suppose authors who finally make it are stingy about offering a leg up to somebody who hasn't slogged through the mud and blood first.
But not Angus Donald. He's the author of the Outlaw Chronicles–a rousing series about Robin Hood set during the 12th century. Angus gave me a blurb for Spartans at the Gates that is just incredible. I've never met Angus, so it's inspiring to get this kind of response from a stranger, especially a writer of his ilk. He  compared me to the great Mary Renault. The first historical fiction book that I ever read (The Persian Boy) was written by Renault. Here's Angus's blurb for Spartans at the Gates that will grace the dust jacket of the hardcover that comes out June 24th.
Right now I'm working on finishing up book 3 of my trilogy: Sword of Apollo. I have to turn in the first draft on May 1st. While the second book in the series takes place mostly in Athens (check out my Tumblr photos of my trip there last summer), Sword of Apollo heads to the seas with Nikias and his friends aboard a trireme (triple-decked warship). Spartans at the Gates hits the few bookstores that are left (but mostly Amazon) on June 24th. Sword of Apollo will arrive a year later in the summer of 2015.
Come back soon for a link to a goodreads giveaway for Spartans at the Gates ARCs that will go live this week (for US residents only). And check out my interview with American Athenaeum Magazine where I talk about the Warrior Trilogy, Tolkien and what influenced me to become a writer.
EXCERPT FROM American Athenaeum interview.
Your most recent published novel, Sons of Zeus, tackles the ancient world of Greece, and follows a young Greek warrior, Nikias, who "dreams of glory in the Olympic games as he trains for the pankration—the no-holds-barred ultimate fighting of the era." His training is cut short when the city is attacked, in a type of "Pearl Harbor" way, which sends Nikias and his neighbors to war. The book is quite an accomplishment in how it recreates the past in such a lively and innovative way, one that contemporary readers can easily connect, with. How long did it take to write the book? What type of research did you do for the novel?
Sons of Zeus took me ten years to write. A lot of people wonder how a Tolkien-freak like me could have written this book. What's interesting is that Tolkien inspired me to start reading the ancient Greeks. I read in one of his letters that his introduction to the classics was Homer. So I went from reading The Lord of the Rings to The Iliad and The Odyssey. In college we had these core classes. Mine was Great Books. In that class we read every extant play from Euripides, Sophocles and Aeschylus. I fell in love with the Greeks after that. So about ten years ago I was working as a documentary film producer, and we started a project about 5th BCE Athens—the "Golden" age of Greece. During my research I came across the story of the sneak-attack on the democratic independent city-state of Plataea: a tale that I had glossed over the first time that I read Thucydides. I couldn't believe that this epic story of courage and survival had never been the subject of a novel. The character of a young Olympic fighter-in-training who must save his city, family and beloved from genocidal invaders just came to me in a vision.